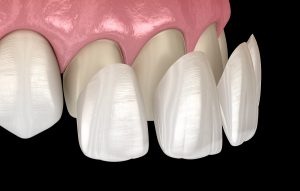 The art of improving your smile's appearance con sometimes seem a lot more complicated than it actually is. For example, the more teeth you have that need improvement, the more extensive it can seem your cosmetic treatment will have to be. With custom-designed porcelain veneers, it often doesn't have to be. Veneers are thin shells of porcelain that are customized to replicate the healthy, blemish-free appearance of your teeth. Depending on your specific smile needs, an appropriate number of veneers may be able to improve them all at once.
What veneers are designed to do
The value in porcelain veneers is that, unlike some cosmetic solutions, they aren't designed to address any specific issue with your tooth structure. Instead, a porcelain veneer focuses on transforming the visible front surface of a tooth, allowing it to address multiple different kinds of concerns with equally lifelike results. The porcelain is customized to match the unique color and shade of your healthy tooth structure, and can even replicate the way your healthy tooth enamel shines.
How they improve your smile
Because of the way in which porcelain veneers are bonded to the front surfaces of your teeth, improving your smile with them offers a wide range of advantages. Most notably is the ability to create a highly lifelike appearance thanks the realistic appearance of the customized porcelain. Also, each veneer is thin enough that you can receive several of them without needing extensive preparation of your tooth structure. Their versatile and minimally invasive nature means veneers may be able to improve issues such as:
Severely stained or discolored teeth
Teeth that seem smaller than those around it
Teeth that are slightly out of alignment
Excessive spaces between your teeth
Chipped or lightly cracked tooth surfaces
Worn down teeth, or teeth that are slightly misshapen
And much more
How they minimize your treatment
The fact that porcelain veneers are so thin offers several important benefits, both for the extent of your treatment and the long-term state of your oral health. Changes to your tooth structure are permanent, and because veneers are so thin, we can minimize these changes by sculpting just a small amount of tooth enamel from the front surface of the tooth.
Learn if you can benefit from veneers
Porcelain veneers are designed to improve a wide range of different smile concerns, making them an ideal solution for many patients' smile makeovers. To learn more, schedule an appointment or initial consultation by calling Advanced Dental Concepts in Auburn Hills, MI, today at (248) 852-1820.