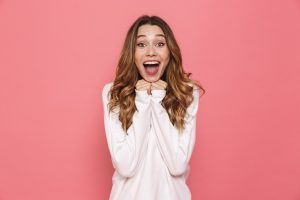 When a tooth is damaged or compromised enough to require a dental crown to restore it, seeking treatment as soon as possible benefits you in several ways. The faster you restore the tooth, the more of your healthy, undamaged tooth structure you can preserve. Also, the sooner you can enjoy biting and chewing comfortably and smiling confidently again. With advanced CEREC technology, we may be able to help you enjoy the benefits of a lifelike dental crown and the full restoration of your tooth sooner, by creating and placing your restoration in just one visit.
You don't need to schedule another visit
CEREC technology allows us to digitally measure your tooth and dental ridges using highly precise digital imaging technology. The system then uses these digital measurements and molds to mill your custom dental crown on-site, according to its specific needs. This eliminates the need to send your measurements to an offsite laboratory and wait for a trusted technician to craft your crown. Instead, you can receive your dental crown in just one visit so you won't have to schedule a follow-up to have your dental crown placed.
CEREC digital technology ensures lifelike results
The digital imaging technology that CEREC is based on includes some of the most advanced digital imaging techniques, including 3D of the tooth and your entire dental ridge. The precision of the images and measurements plays a significant role in crafting a dental crown that closely mimics your healthy, natural tooth's size, shape, and appearance. Also, the system crafts your restoration from highly lifelike, customized dental porcelain that's specifically designed to mimic the healthy color, shade, shine, and appearance of your natural teeth.
Same-day crowns can fix most types of tooth damage
The benefit of modern dental crowns is that they're able to save and restore teeth that have experienced a wide range of different types of concerns. When made from highly lifelike dental porcelain, these can also include severe cosmetic blemishes and concerns, which a dental crown can improve instantly and completely. CEREC same-day dental crowns are able to address any issue that a traditional dental crown can address, and can do so in a more time-efficient and convenient manner for you.
Learn if you can benefit from a CEREC crown
With advanced CEREC technology, you can benefit from a lifelike dental crown faster and more conveniently. To learn more, schedule an appointment or initial consultation by calling Advanced Dental Concepts in Auburn Hills, MI, today at (248) 852-1820.