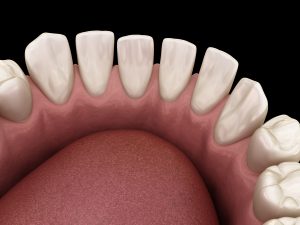 Most of us strive for a perfect, lifelong smile that we can confidently show off and feel good in. Because of the incessant wear and tear of everyday occurrences, however, that goal can sometimes be difficult to obtain. In fact, infections such as periodontal disease or even a chipped tooth stand in the way of that beautiful appearance, hindering our ability to achieve it. In today's blog, your Auburn Hills, MI dentist wants to take a look at the ways cosmetic dentistry can address a myriad of problems, and more specifically, the way porcelain veneers can address gaps in your smile.
Enhancing Your Smile
Many adults take care to follow a strict preventive dental routine, including brushing and flossing correctly at home, attending in-office dental checkups and cleanings, and even by paying mind to the potential harm a number of foods and beverages can cause to your oral health. The truth of the matter is, however, that you can do everything right, but it only takes one mishap to incur a chip or crack within a tooth. What's more, structural concerns such as gaps between teeth are typically out of your control, riddling your smile with a number of blemishes. Fortunately, however, cosmetic dentistry can help.
A Variety of Blemishes
As one of the more versatile cosmetic treatments, porcelain veneers consist of ultra-thin shells of dental porcelain that are designed and created to significantly enhance your smile's appearance without the need for extensive surgery. In fact, they only require a small amount of enamel sculpting in order to place and ensure a smooth appearance throughout. Because they are created and specifically tailored to your exact smile – from texture and shape, even down to the shade – they can address a number of concerns, including gaps. Your dentist will simply lengthen the surface area, apply your shells, and voila! You just obtained a full and complete grin.
Not only can veneers address gaps in your grin, but a variety of blemishes, too! From a chipped tooth to a crack, difficult stains that whitening cannot address, and everything in-between, veneers offer a permanent solution without the need for extensive operations, surgery, or invasiveness. For more information, contact our team today.
Customized Treatment
One of the greatest benefits of receiving custom dental shells is the ability to enjoy lifelike results. Your dentist will customize your treatment so that the shells closely mimic the exact texture, shape, shade, and more of your grin, rendering it nearly indistinguishable from your natural smile.
Book Your Appointment
Don't let your fear of extensive treatment get in the way of achieving the beautiful smile you deserve. Contact Advanced Dental Concepts in Auburn Hills, MI by calling 248-852-1820 to find out how we can help.