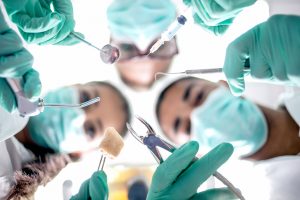 It goes without saying that your smile endures a consistent amount of wear and tear over the years. After all, every smile endures a barrage of oral health threats such as bacteria, infection, and decay, and these concerns do not cease with time or on their own. Because of this, it is imperative you implement a well-rounded preventive care routine to best take care of your structures. Still, however, sometimes life may have other plans, and a severe physical accident can result in injury beyond the protection of prevention. In today's blog, your Auburn Hills, MI dentist will discuss the help that restorative dental treatment provides, as well as how dental crowns can protect your teeth in a variety of ways.
Protection from Harm
Given the number of oral health threats out there and the frequency with which they occur, your dentist recommends practicing a well-rounded routine that provides protection on multiple fronts. This includes brushing your teeth twice a day, flossing after meals, attending routine checkups, and being conscious of the way certain foods and beverages impact your smile.
Still, you could be doing everything correctly in terms of managing your smile, but an unpredictable physical accident can occur, causing an injury that ranges in severity. What's more? The worse the injury is, the more treatment will likely be required to treat it. Even still, there is not a guarantee your natural teeth are safe.
Indeed, in cases such as the one described above, restorative dentistry will likely be the only option to help preserve your natural teeth and, ideally, reinforce your smile's strength. To learn more about this process, reach out to our team today.
Promoting Proper Healing
Restorative dentistry consists of all treatments intended to mitigate damage, prevent disease from spreading, restore your oral function, and reinforce your grin. Among the different options used to treat a variety of conditions, none are more versatile than CEREC crowns.
CEREC, which stands for Chairside Economic Restorations of Esthetic Ceramics, and utilizes a system of CAD/CAM technology to create highly lifelike crown restorations. Dental crowns consist of hollow caps that are placed over an affected tooth. Reach out to our team to learn more about this process and get started today.
Reinforcing Your Teeth
The last thing you or your dentist wants is for you to lose a natural tooth, and CEREC crowns make it possible to promote proper healing, protect your natural structures from harm, and ultimately reinforce your smile's integrity and overall strength. What's more? We can design and create your crown restorations in-house with a lifelike finish, so you do not even have to worry about noticeable treatment!
Schedule Your Visit
Contact Advanced Dental Concepts in Auburn Hills, MI by calling 248-852-1820 to learn more about the benefits of CEREC crowns, and schedule your next appointment with our team today.