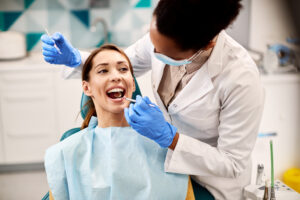 Whether you are aware of it or not, your smile is constantly facing a barrage of threats throughout the course of your life. From the moment your first tooth arrives and well into adulthood, your grin encounters oral bacteria, dental emergencies, and practically everything else in between. Though we have a few natural defenses in place, they are greatly outnumbered by negative forces. Because of this, it is important we give our smiles all of the help they can get. In today's blog, your Auburn Hills, MI dentist encourages you to schedule your next routine checkup, as well as details what you can expect from your visit.
A Part of Your Preventive Routine
From a young age, we often hear our parents or guardians emphasize the importance of brushing your teeth. While at the time we may have thought it to be nothing more than a ploy by adults to make us do stuff we did not want to do, on the contrary, it laid a solid foundation for preventive care.
Preventive dental care can be considered to be any practice that aims to minimize your chances of developing infection, strengthen your natural defenses, or overall provide necessary cleaning for your oral health. At home, it often takes the form of brushing your teeth twice a day, flossing after meals, and swishing and spitting using an antiseptic mouthwash to provide a better overall clean.
Though you may be practicing all of these steps, keep in mind that it only represents a portion of your overall preventive routine. As a matter of fact, no routine is considered complete without attending your regular checkup and cleaning. To learn more about this process and how our team can help, give us a call today.
What to Expect from the Process
When you attend your routine dental checkup, there are a few different steps that will occur. First, we will take care to take your x-rays. This step allows us to get a general idea of your smile's structural integrity as well as help us identify potential problem areas to be on the lookout for.
Following your x-rays, we will provide a detailed examination that looks for signs of damage, infection, trauma, and more. Finally, we will finish your visit with a detailed cleaning to help remove difficult deposits of plaque and tartar. Contact our team to learn more.
Additional Options to Note
Your examination not only helps us identify potential problem areas, but it serves as a means of creating a custom treatment plan moving forward as well. We can offer additional options for maintaining a healthy smile such as providing a fluoride treatment, among other options.
Schedule your Visit Today
Contact Advanced Dental Concepts in Auburn Hills, MI by calling 248-852-1820 to schedule your next appointment with our office and learn more about the important need of attending your regular dental checkups.