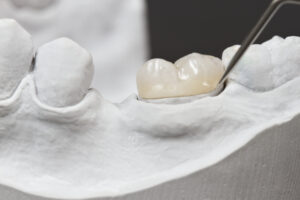 It goes without saying that among the many oral health threats that exist out there, tooth decay has got to be the most common of the bacteria-related concerns. Indeed, it may feel frightening receiving your first cavity, but with the help of early restorative care, you can go back to an adequate state of health in virtually no time. Still, sometimes infections and other complications require a bit more effort to treat, and seeking help as soon as possible is critical. In today's blog, your Auburn Hills, MI dentist discusses circumstances that might warrant the need for a dental crown restoration and shares how these solutions can address a range of concerns.
Preventing A Spreading Infection
When it comes down to it, the last thing a person wants to experience in their life is an infection of some sort. Looking at dental infections, in particular, these issues can range in terms of severity, presenting issue, and effects on your overall health.
Due to the fact that oral bacteria are present in every smile, bacteria-related concerns are prevalent issues that everyone can face. Though there are several threats to your oral health, there are not nearly as many natural defenses to protect your structures. With this in mind, it is important to seek alternative solutions in the form of restorative dental care.
You see, restorative solutions such as a dental crown can help prevent an infection from spreading that has already established itself. This occurs by capping off the infected tooth and creating an air-tight seal so that other bacteria do not enter, and the infection itself cannot progress. To learn more about this process and how our team can help, give us a call today.
An Addition to Extensive Treatment
A dental crown is a restoration consisting of a hollow cap. It closely resembles the appearance and dimensions of your natural teeth, and is customized to meet your needs precisely. Crowns can be used in ways like what was described above, but they can also be used in conjunction with other treatment options.
One such example includes capping off a tooth following a more extensive treatment such as root canal therapy. You see, a dental crown can help protect your tooth as it heals from treatment, allowing your healing process to occur as intended. Contact our team to learn more.
Providing Structural Support
In addition to protecting your tooth following an extensive procedure, a dental crown can also provide additional structural support. As a tooth heals, it is often sensitive to your bite pressure, making routine tasks such as biting and chewing more difficult to accomplish. With the help of a crown, the restoration can absorb your bite pressure appropriately.
Schedule your Visit Today
Contact Advanced Dental Concepts in Auburn Hills, MI by calling 248-852-1820 to schedule your next appointment with a member of our team and learn more about the different ways dental restorations can help restore your smile's health and function.