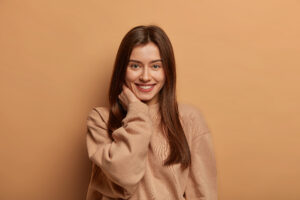 Stains on your teeth can be difficult to remove on your own with your regular brushing and flossing. Even with whitening toothpaste, your concern simply might not be addressed. Speak with a trained dental provider about your condition before you start treating yourself, so that you can receive a true diagnosis. The experience of a dentist can be invaluable in finding an appropriate treatment for your stubborn stains. Be sure that your stains are coming from the foods you eat and not from internal discoloration, which can require an entirely different correction.
At Advanced Dental Concepts in Auburn Hills, MI, we give you options to help you achieve a lighter shade of enamel. For some, the convenience of an at-home treatment might seem the most appealing. This process can be used alongside your nightly oral health routine in order to see changes in as little as two weeks. We also offer Zoom! whitening to help you improve your appearance in a single appointment, to look your best for a significant event. Your smile can be brighter wih helpful cosmetic dentistry.
Professional Whitening Allows For A Tailored Approach
With cosmetic dental products available at every drugstore, it can be overwhelming to treat your concern on your own. These products can include harsh bleaching agents that can weaken your enamel, so take the time to speak with a qualified dental professional about your options. The visual examination during your checkup can allow them to determine the cause of your discoloration. In some cases, the problem might arise from within the tooth itself. If you seek out over-the-counter solutions first, you could weaken your enamel without seeing a noticeable improvement.
Determine Your Path Forward With A Dentist And Make Bold Decisions
Your professional whitening treatment can help you to feel a renewed sense of confidence after the long accumulation of your stains. We offer you two different methods to lighten the shade of your smile, depending on your needs and comfort level.
At-home whitening gives you the ability to gently lift stains with a bleaching gel. Wear your trays for a set period each day and see positive results in as little as two weeks. If you have a big event or a job interview on the horizon, come into the office for a single-session solution. Zoom! whitening allows for the rapid removal of your stubborn stains with an appointment that typically lasts around an hour.
Lighten Your Smile In Auburn Hills, MI
Whiten your teeth with the assistance of a trusted oral health provider. Call Advanced Dental Concepts in Auburn Hills, MI at (248) 852-1820 for more information or to schedule an appointment. Your enamel is vital to the strength of your smile, so take care of your teeth!