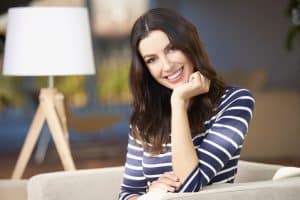 Why are dental fillings so often used to fix a tooth that needs a cavity treatment? The first thing to understand is that something will have to be done to address the harm tooth decay causes, because the material lost to that damage will not naturally rebuild. A filling offers discreet support by occupying the space where the cavity formed. Restorative dental care with a filling can protect your tooth, and, because your dentist uses composite resin, it will not call attention to itself. While the placement of a dental crown can call for more significant alterations to your tooth, a filling requires less modification when you have it placed. That being said, a larger cavity can demand more protection than you could ask from a filling, which will make a crown necessary.
Will A Dental Filling Affect Your Smile?
Composite resin, the material used to construct fillings, is natural-looking enough to be useful in cosmetic dental work. This can be a relief to a patient worried that their smile will not be the same after a cavity. Composite resin is also able to bond directly to your tooth, offering excellent stability.
Dental Checkups Help You Avoid Advanced Cavities
People who come in for regular dental checkups are notably less likely to suffer an advanced cavity. One reason for this is that the care you receive will make it less likely that you will develop a cavity at all. However, if one does form, your dentist will be able to detect it, and treat it, before it grows serious. If you forgo routine visits, you may not know of a problem until your tooth starts to ache – that can be a sign that your cavity has started to become serious.
Talk To Your Dentist If You Need A Dental Filling
Dental fillings offer lasting support for teeth, and require minimal modification of them. What you should understand is that a filling cannot be used if your cavity grows too large, and needs more significant support. To learn more about what sets our office apart from the rest, or to schedule an appointment or initial consultation, call Advanced Dental Concepts in Auburn Hills, MI today at (248) 852-1820.