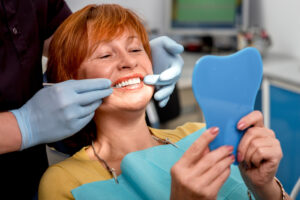 In our most recent blog post, our team took a look at several different scenarios in which a tooth extraction was needed to prioritize a person's oral health. While nobody's first choice is to lose a permanent tooth as an adult, sometimes this option is out of our control. Of course, functional complications can and will arise when even a single structure is missing, and as such, your dentist recommends seeking a replacement as soon as possible. In today's blog, your Auburn Hills, MI dentist looks at the functional benefits of dental implants, as well as how they can complete your smile.
The Value in Implant Dentistry
We have said it before and we will say it again: if given the choice, nobody would lose a permanent tooth. The unfortunate reality is, however, that this choice is often not one people are presented with. For instance, your smile is influenced by several different factors, including infections, diseases, germs, bacteria, your diet, use of tobacco products, consumption of alcohol, and so much more. Even dental emergencies can result in a dislodged or knocked-out tooth.
With all of this in mind, it is no wonder tooth loss can take some by surprise. Although removing a troubled structure can do wonders for your health, it also has an influence over your oral function. Because of this, it is important to ask your dentist about your replacement teeth options and how dental implants can help.
You see, dental implants consist of biocompatible titanium posts that are strategically placed into the jawbone with an artificial tooth crown attached to it. To learn more about this process and how our team can help, give us a call today.
Addressing Questions of Oral Function
The reason dental implants are highly renowned is due to the fact that they not only address the gap in your smile, but they focus on your oral function as well. The biocompatible post is set to anchor the crown to your jaw, functioning in a similar manner as a natural tooth root would. Because of this, your artificial tooth can absorb a necessary amount of bite pressure, thus restoring your bite overall. Contact our team to learn more today.
Completing Your Smile Once More
Not only can dental implants address the complications that arise from a single missing tooth, but they can be used in conjunction with dental prostheses to address tooth loss of varying degrees. This includes implants, dental bridges, and even partial or full denture sets, and our team is ready to help when you need.
Learn More Today
To learn more about the functional and structural benefits of dental implant posts, contact Advanced Dental Concepts in Auburn Hills, MI by calling 248-852-1820 to schedule your next appointment with a member of our team today.