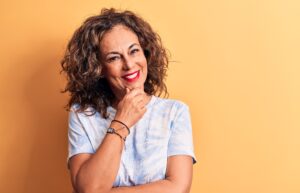 Misalignment and malocclusion are conditions that can affect people of all ages, but there is a stigma attached to adult correction methods. If you have been holding off on seeking treatment because you do not want a bulky visible solution, reach out to your trusted dental provider about your condition. There is a helpful method of improvement that can give you the opportunity to correct your alignment without showing the world your orthodontic procedure.
We can help you with clear aligner treatment from Invisalign® at Advanced Dental Concepts in Auburn Hills, MI. This approach gives you a powerful tool in the improvement of your smile quality, both in appearance and ongoing durability. Simply wear these nearly invisible aligner trays throughout the day, and they will start to shift your teeth into a healthy location. As you reach closer to your goal, you will swap these out for new trays that progressively bring your smile into alignment. While you are treating your condition, your friends and coworkers will notice the improvement, not your treatment!
Invisalign® Helps Address Your Misalignment And Malocclusion
If you struggle with the appearance of your smile, you know how far-reaching the effects can be. With every new person that you meet, you may cover your smile or even avoid speaking up entirely. If you are a young professional or established adult, your alignment could be holding you back in your career or your social life.
Clear aligners from Invisalign® help you to achieve a more attractive smile in a way that keeps your privacy in mind. Avoid the intrusion of traditional braces with a nearly invisible solution that gives you the opportunity to keep your treatment secret. This way, your friends and co-workers can notice your improvement, rather than the process.
How Invisalign® Straightens Your Misaligned Smile
Treatment with Invisalign® relies upon traditional orthodontic concepts, but with a new approach. You will wear a set of nearly invisible aligners throughout the day, and during this time, they will gently shift the location of your teeth along your oral ridge. As you move toward your goal, you will swap the trays out for new ones.
During your routine smile maintenance of brushing and flossing, you will remove your trays, and also while you eat. Beyond that, keep your solution in your mouth for the maximum benefit, as consistent use of your aligner trays can shorten the period of treatment.
Invisalign® Treatment In Auburn Hills, MI
If you are struggling with the appearance of your smile, reach out to our team and see if this novel form of alignment treatment is right for you. Speak with Advanced Dental Concepts in Auburn Hills, MI at (248) 852-1820 for more information or to set a time for your visit.